Meet Dr. John Grimes
Choosing Natural Health Care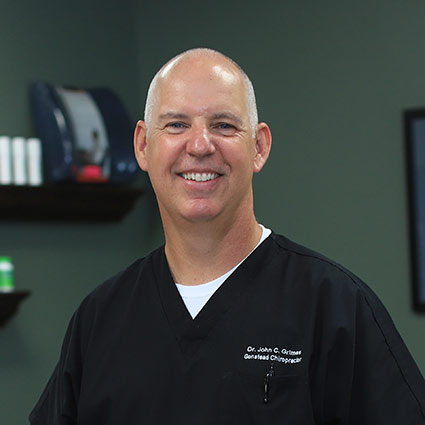 A native of Northwest Las Vegas, Dr. Grimes grew up wanting to be a Medical Doctor. Watching his mother battle cancer and spending a lot of time in hospitals, however, made him rethink that goal. He still wanted to help people, but the traditional medical approach didn't feel right to him.
Instead, he applied and was accepted to a physical therapy program. That's when his brother-in-law—a chiropractor—took the time to give him another viewpoint. They went to lunch, and over the course of that one meal, his brother-in-law shared the chiropractic philosophy of natural health care to help the body heal itself from within.
Dr. Grimes knew immediately that this was the path for him. He applied, got accepted, and went to Palmer College of Chiropractic, sight unseen. From day one, his mind was blown, and he continues to feel inspired by the power of chiropractic to change people's lives—even after over 20 years in practice!
EXPLORE OUR SERVICES

Education and Experience
Since graduating with his Doctor of Chiropractic degree from Palmer in 1999, Dr. Grimes has continued to further his training through advanced Gonstead seminars. He is a member of the International Chiropractic Association, the Nevada Chiropractic Association and the Gonstead Clinical Studies Society.
Before returning home to open Grimes Family Chiropractic, Dr. Grimes participated in a mission trip to Haiti, providing chiropractic care to patients suffering with conditions like leprosy and AIDS.
Coming back to serve the people of his hometown was always Dr. Grimes' goal. Over the past 20-plus years, we've become a trusted fixture of the community. Our first office was a shared space with another chiropractor, and within a year we outgrew that space and moved down the hall. We settled in our current location in 2011.
Away From the Office
When he's not at work, Dr. Grimes enjoys spending as much time as possible with his wife and four grown kids. They love the outdoors, and you can often find him trail running, mountain biking and skeet shooting, as well as attending hockey games.
Book Today
Contact us today to schedule an appointment!
---
Dr. John Grimes | (702) 233-2372